You are using SuiteCRM open source as CRM software for your business and looking for free SuiteCRM modules? Below is the list of the best modules, add-ons and plugins is published in the store as no fee. you can reference and try it if it helpful for your business.
1. SuiteCRM Asterisk Connector
Free SuiteCRM Asterisk Plugin – Best-in-class business solutions that deliver competitive edge and ROI with power and flexibility of SuiteCRM. Our team always aim to meet your budget while delivering a measurable ROI on your CRM investment
Asterisk and SuiteCRM are essentially for both inbound and outbound call centers. SuiteCRM and Asterisk connector seamlessly integrates and easy to configure. Companies who have IP telephony on Asterisk platform look for such system integrations so that it's cost-effective and increase the productivity of agents. FyNSiS delivers seamless SuiteCRM Integration with Asterisk telephony/IPBX systems. Users will have access to caller/customer data like the interactions are happening real-time within SuiteCRM. Outbound calls from Campaign Outbound call center needs options to dial automatically based on Target List. Once the campaign is started by the SuiteCRM admin, Asterisk should automatically Queue and make the calls based on the availability of free extensions. Once the End Customer/Contact picks the call, the information on the contact should be pop-up on the extension that is connected.
2. SuiteCRM Analytics (Web Analytics)
A fully Open Source and completely extendable BI platform comprised of two major components; Data Integration & Web Analytics – This is the BI Platform
Reporting
SuiteCRM Web Analytics is a web based analysis and reporting frontend that allows users to explore data in the Data Warehouse that has been extracted from SuiteCRM and third party data sources.
Users are able to log into the web portal to run, filter data or schedule reports. The web portal provides the ability to import new reports and dashboards created using Pentaho powerful CTools and Report Designer. Reports can support a number of different visual charts and output types such as HTML, PDF and Excel.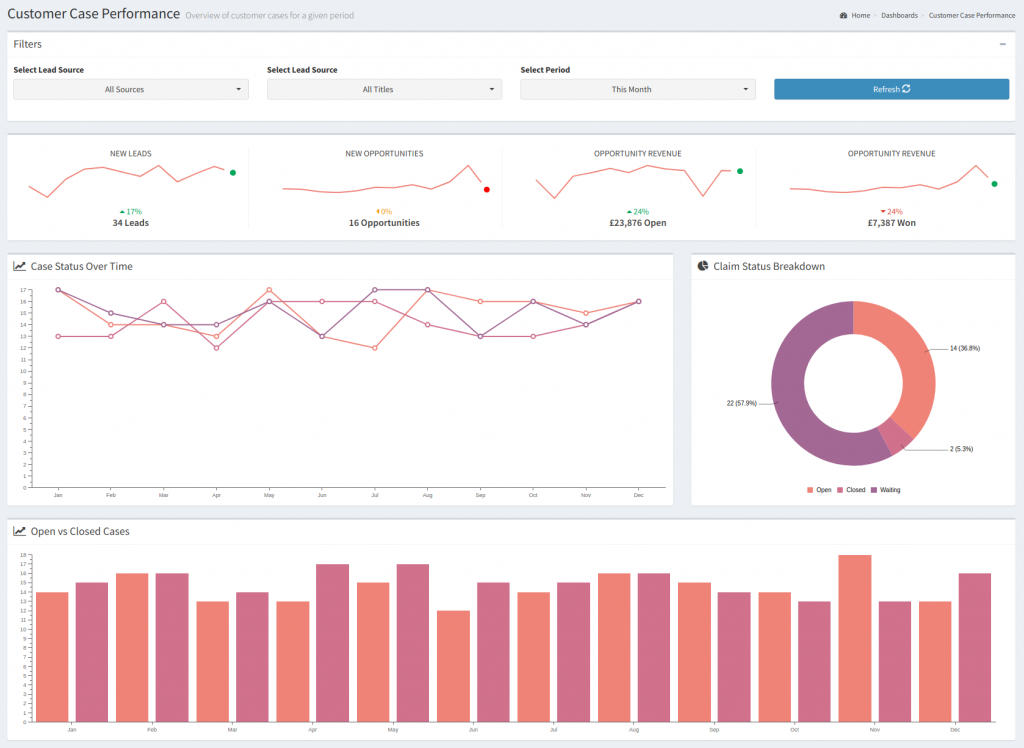 Features
Web Based Frontend
Security and Permissions
Pixel Perfect Reporting
Multiple output types like HTML, PDF, Excel
Advanced Charting
Visual Report Designer
Schedule Distributed Reporting via Email
Dashboards
Web Based Frontend
Web Based Dashboard Designer
Highly Customisable
Responsive Dashboards for Mobile
Drill down charts
Highlights
Open Source
Optimised for Performance
Visual UI for developing Adding third party data sources
Data Extraction Scheduling
Data Warehouse Schema
3. SuiteCRM Analytics (Data Integration)
A fully Open Source and completely extendable BI platform comprised of two major components; Data Integration & Web Analytics – This is the ETL solution

SuiteCRM Data Integration is an Extract, Transform and Load (ETL) solution. It connects to any SuiteCRM instance, extracts source data from the MySQL/ MariaDB database and loads it into a Data Warehouse which has been optimised for analytical functions. SuiteCRM Data Integration can be installed as a stand-alone solution and can be used with other reporting tools if desired.
The fully extensible foundation solution extracts data only from SuiteCRM and embraces other third party data sources for complete data mashups. For example, users could pull in weather data from a meteorological site, historical sales data from ERP and compare it against global and regional sales account performance data in SuiteCRM to gain deeper insights into customer behaviour.
Features
Open Source
Optimised for Performance
Visual UI for developing and adding third party data sources
Data Extraction Scheduling
Data Warehouse Schema
Also, you can find more free suitecrm plugin, themes and add-ons in the SuiteCRM Store