How it works?
Are your company's is a company service for example: Software SAAS, or hosting provider or any industry need manage invoice by recurring or etc,… Are you a SuiteCRM user and you are managing your company's invoices manually? is It taking much your time and maybe lost some invoice? you're looking for a plugins can helps you do that exactly? We understand your problem and SuiteCRM Addon has make decision develop a plugin to help the user can easy to make recurring invoice in SuiteCRM instead you need take more cost to hire more third-party software. The plugin is MTS Advanced Invoice plugin and it's a plugin are you looking for what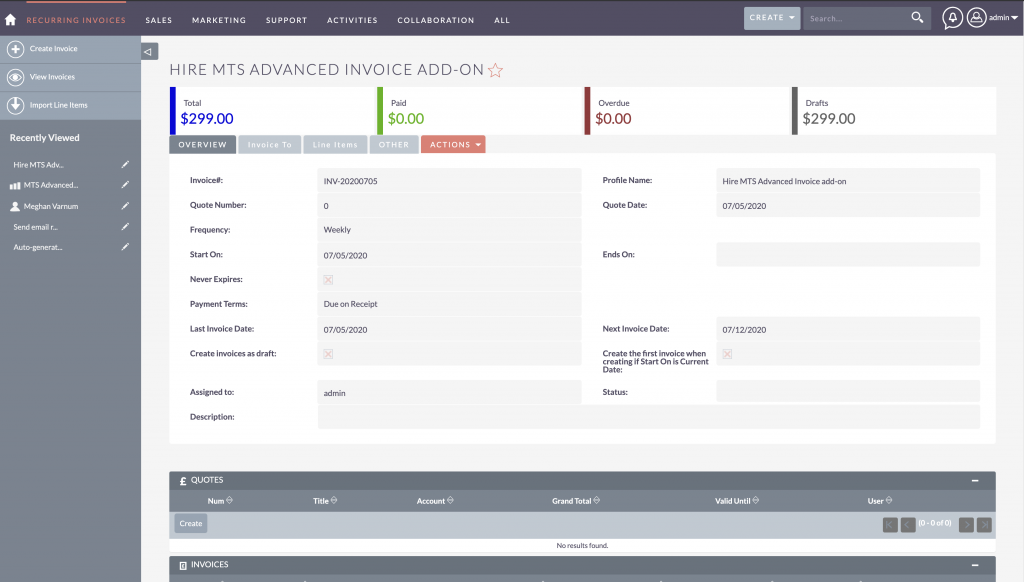 Key features
Manage recurring invoices in the recurring invoice module
Auto-generate new invoices once current invoices are outdated
Send email notification to your employee that's the owner of the record
Send email to remind that invoices are overdue
Summary of the total amount of the recurring invoice
Create payment for generated invoice if you need to split payment in the invoice
Easy to convert a exist invoice to the recurring invoice
What do our customers say?